The adoption of technology plays a significant role in productivity enhancement and economic growth [1]. More often than not, programs designed to achieve this goal tend to not be designed for women, limiting the potential for economic development for the country at large, and for women in particular. Technology-based programs that specifically aim to address the needs of women have been deemed essential to enhance their socio-economic status and household welfare [2]. Despite evidence on the positive effects of technology adoption by women, there exist significant barriers for them towards adoption which vary by context [3]. Therefore, to meet the desired impact of technology-focused programs for women, it is imperative to study, understand, and address these barriers or design within them, with the goal of overall welfare improvements in mind, to improve the adoption and utilization of technology.
Arifu's free-to-use training content, delivered through SMS, Whatsapp, and more, aims to inform day-to-day decision-making and improve livelihoods for multiple population segments, including farmers, MSMEs, job-seekers, youth, and more. We carefully design and deliver actionable content, personalized for different audiences, to ensure ease of access and appeal and relevance for day-to-day decision-making for all our learners.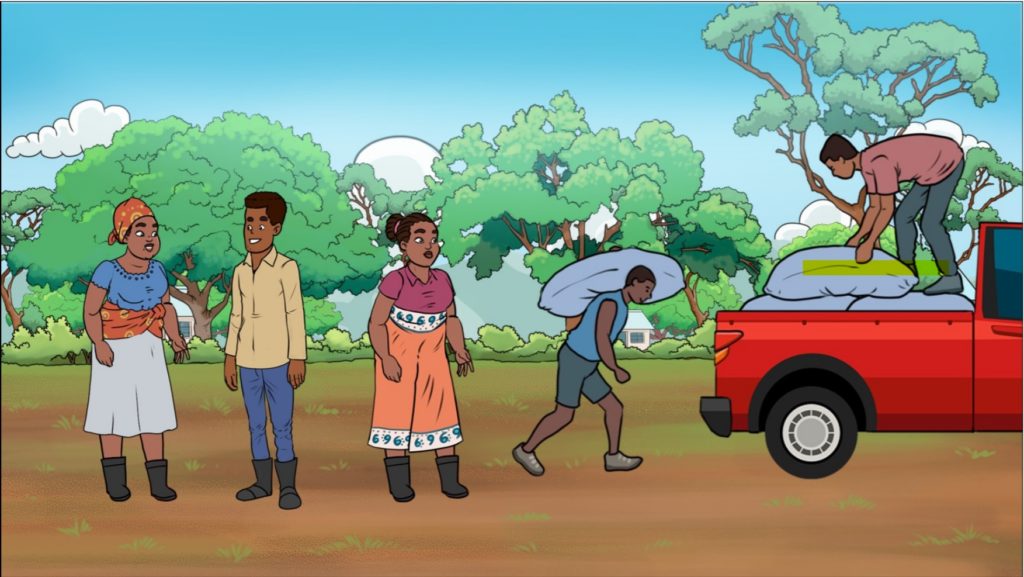 A visual from Arifu's rich media on Maize showcasing male and female farmers selling their harvests.
In order to provide relevant content for all, we comprehend and tackle the demand, access, and adoption challenges faced by different target population segments. Past studies and our experience shows that the barriers to technology adoption, which include limited access to credit, risk perceptions towards technology investment, and asymmetric information about available technologies, are often exacerbated for women, especially in Sub-Saharan Africa where access to technologies still remains low. The major reasons for this gender gap are restrictive socio-cultural values and norms, and the prevalence of male-headed households with significant control over resources and decisions [4].
These constraints, however, have not reduced the demand for technology among women. We have seen significant demand for digital education by women at Arifu. While overall the gender ratio of our learners is far from parity, we are in the midst of designing strategies that aim to measurably drive adoption and utilization of our service by women. Through the design iteration process, we have found women demanding more and more of our content. Four years ago, a blended training model designed for female micro-entrepreneurs in Tanzania, delivered in partnership with Technoserve, had an average of 150 messages of engagement with training content – an engagement rate at that point several times higher than our average. More recently, we have seen engagement more than double in Kenya with women engaging with 390 messages of business training content (relative to 370 messages by men) in a project deployed in partnership with the Government of Kenya and the World Bank. This is the highest average engagement level to date across our projects.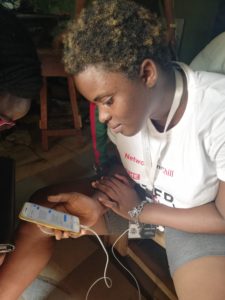 A young merchant engaging with Arifu.
None of this is to say we have cracked the case. Given the high demand for our content among women, we are looking to actively design more for the needs and decisions that women undertake within households.
Our current strategies include iterating upon and enhancing our content based on women's preferences, developing partnerships with female-focused community-based organizations and self-organized groups, and organizing large-scale outreach activities for women specifically enabled by partnerships like that with Google.org.
To inform our strategy further, we are currently collaborating with AgriFin Accelerate, Busara Center for Behavioral Economics, and Dalberg in a project funded by the Bill & Melinda Gates Foundation. This project is exploring the differential use of Arifu's content between men and women in order to build recommendations upon our existing efforts to cater to women and unpacking further why these differences exist. Preliminary findings from this study show women engaging proportionately more with content related to planting compared to men who engage more at points of harvesting. We also see women engaging more with poultry-related content than men highlighting preferences based on underlying dynamics. The next phase of this study will provide insights on what drives these preferences and what more we can do to drive adoption and continued usage to improve upon our delivery of digital services for women.
Arifu's aim is to provide access to useful content for all to inform day-to-day decision making. With the collaborations and efforts in place to understand the gender dynamics of technology adoption and usage, the next step for us is to upgrade our design and deployment processes and strategies to achieve increased technology adoption and content engagement for both men and women in order to drive welfare improvements, truly, for all.
---
Footnotes
[1] Evidence has shown a reduction in poverty, and improvement in income and rural welfare through the adoption of new agricultural technologies, and modern seeds and practices in Uganda, Ethiopia, and Tanzania (Adekambe et al., 2006; Muricho et al., 2011; Lipper et al., 2012).
[2] Evidence has shown that improvement in women's direct income and livelihood has higher positive effects on household welfare through better child health and education, food security, and improved nutrition (Alkire et al. 2012; CGIAR 2013).
[3] The mobile ownership gender gap is modeled to be as high as 24% in African countries, with 41% of women less likely to use mobile internet (GSMA's Mobile Gender Gap Report, 2019; GSMA's State of Mobile Internet Connectivity Report, 2019).
[4] Gender affects technology adoption since the head of the household is the primary decision-maker and men have more access to and control over vital production resources than women due to socio-cultural values and norms (Tesfaye et al., 2001; Mesfin, 2005; Omonona et al., 2006; Mignouna et al., 2011).