Andrew Thiongo  |  Business Development Associate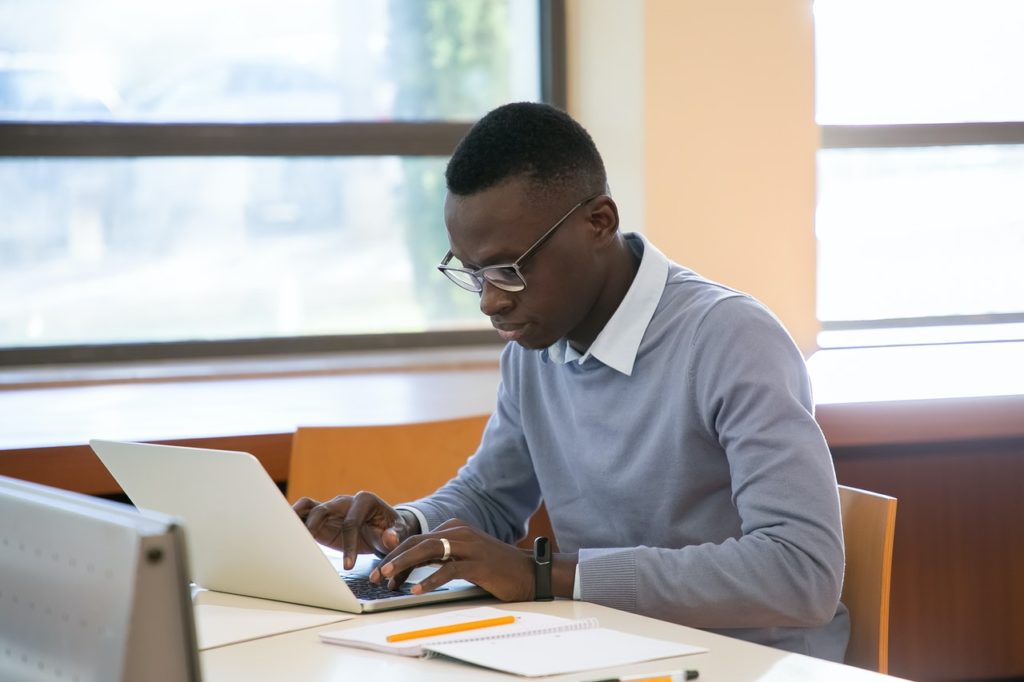 I own a small branding business where I make customized phone cases, coffee mugs and business cards for my customers. I started this business in 2016 a couple of months after graduating from university. Since then, my business has grown and I have been able to learn the nuances of running a business while making a complementary income. Fast forward to 2020, an incredibly tough year for not only just my business but for most small businesses across the world. The cash crunch in the market affected my business and  led to a sharp decrease in the number of orders that I received from customers. Some of the reasons for this decline in sales was as a result of many of my regular customers losing their jobs, taking pay cuts or simply deciding to hold off on making any purchases as they monitored what effects the pandemic could potentially have on their finances. 
Aside from affecting the demand side of business, the Covid-19 pandemic has also brought about other issues that MSMEs have had to contend with on the supply side. Challenges such as reduced labour supply due to lockdowns, curfews and inter-city movement restrictions have affected many businesses. Country lockdowns have also affected imports and exports affecting several businesses dependencies. 
African businesses reactions and outlook on Covid-19 by African Trade Policy Center and International Economics Consulting Limited listed the following reasons as the main challenges faced by MSMEs in Africa during the Covid-19 pandemic:
Lack of operational cash flow.

Reduced opportunity to meet new customers.

Challenges in logistics and disrupted supply chains.

Failure to adapt to the pandemic or offer alternative products and services.
With the diverse effects of the pandemic still ravaging many MSMEs across the globe, Arifu and Praekelt.org supported by Google.org, are providing free economic recovery content that will help educate a target audience of 500,000 low income MSMEs, employment seekers and small-holder farmers in Kenya, South Africa and Nigeria. The project was recently launched in January this year and it is already live in Kenya and South Africa and will be rolled out in Nigeria later this year.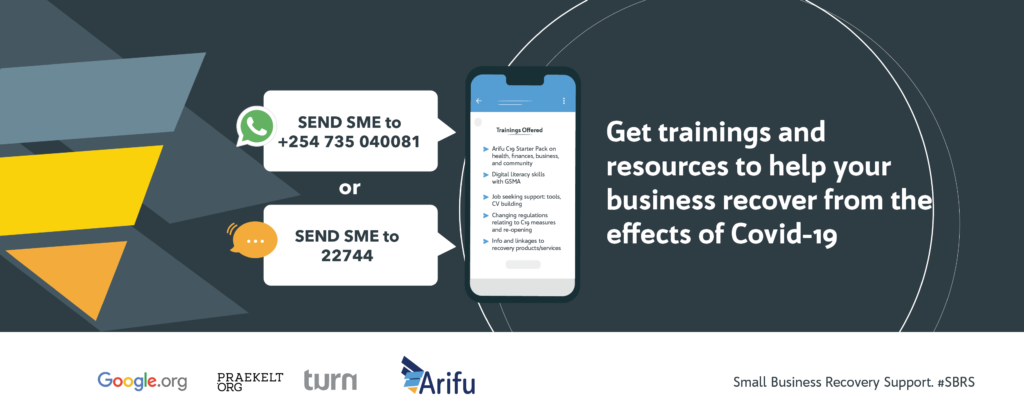 Arifu's MSME Economic Recovery Content
This content consists of insightful information modelled towards helping our target audience recover from the economic downturn caused by the Covid-19 pandemic. The content modules covered include:
Info and linkages to recovery products and services.

Job seeking support tools.

Covid-19 specific advice on health, finances, business, education and stress management.

Changing regulations relating to Covid-19 measures and re-opening.

Digital literacy skills for business (adapted from GSMA's mobile internet skills training toolkit).
The content modules on digital literacy skills for business as well as the module on information and linkages to recovery products specifically focus on upskilling and providing insightful information to small business owners. The info and linkages content provides information about the following: (1) available economic recovery products provided by government and other initiatives, (2) agriculture and business related recovery products as well as (3) mental health recovery services which provide information about counselling centers where learners can get affordable counselling services.
In collaboration with GSMA, the digital literacy skills content on Arifu's platform helps MSMEs access information on how they can digitally adapt their business models to get more customers. Some of the topics covered include: (1) benefits of using the internet for small businesses, (2) features and business use cases of Google search, YouTube, WhatsApp and Facebook, (3) how to promote your business through Facebook and WhatsApp chat groups and also (4) ways in which business owners can utilize YouTube and Google search to learn new business related skills. 
As businesses continue to grapple with the negative effects of the Covid-19 pandemic, we at Arifu will continue to innovate and expand our content library in order to provide a reliable source of information that will upskill business owners. Our MSME economic recovery content provides a great example of our aim to continue to provide insightful and impactful content at no cost for our learners, we are very eager to review the results of this impactful initiative and we look forward to sharing the results with you.
To find out more about Arifu's MSME economic recovery initiative, email us Andrew Thiongo or Ritika Sood